Irrational Number Line Games, LLC
Little Pink Houses...
Well, this is a decent toy conversion based on a play set by ERTL. The listed scale of the building is 1:64, which makes it "too small" for 28mm wargaming. Sure. Whatever. Strict adherence to scale is the reason we all need to see two things physically next to each other to decide for ourselves. And it's why I post this type of article. Also, the thing was on sale for less than 1/2 price at Christmas, so I figured "How far out of scale could it be?" and "Worst case, it become fodder for half a dozen bombed out buildings."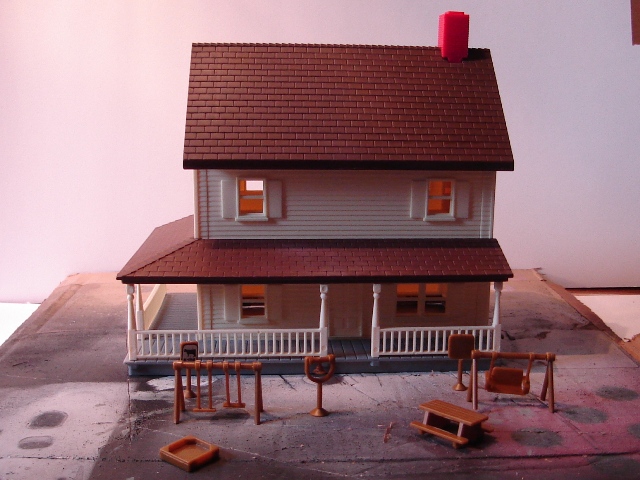 Right out of the box, so to speak, this one is a winner. First, as a toy, it is built to be sturdy enough for a little kid to bang on it with a die cast truck. This is an especially nice break for those of us who debate how thin cardboard for scratchbuilding can be before it's just paper...
Also, unlike many a Christmas toy, this was very easy to put together. A spastic orangutan going through withdrawal could put it together in about five minutes. It only took me ten. And again, sturdy when assembled.
It has a nice look to it as is, with a decent amount of detail. This could reaonably be assembled and fielded with nothing else done to it.
Finally, as an added bonus, the roof can just sit on top without clicking into place and not leave a big gap. This allows easy interior access to the finished piece if you want. If not, just glue it down. About that ... this is a snap together thing, so you don't really need to glue it. However ... rowdy wargamers ... behavioural problems ... well .. enough said.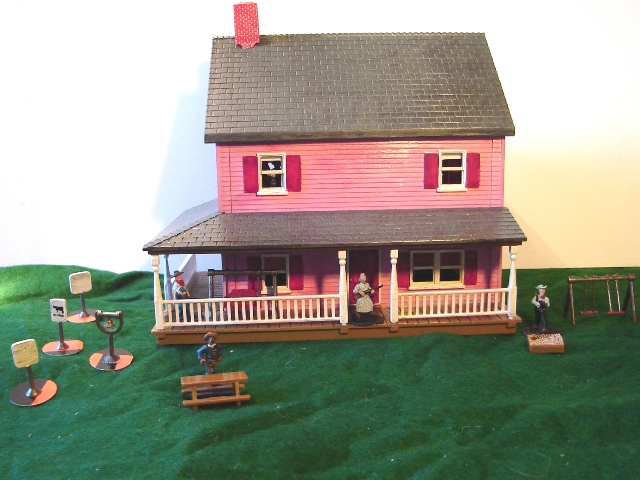 Let's just get this out of the way now. Yes. I painted it pink. And a nice thing is it doesn't look like Barbie's dream house because of that. It took primer and paint farily nice. I also used some of the "antiquing crackle" underlayer to make it look more like a real world house (chipping paint and variated colors) than a toy. I think that came out nicely. One drawback is the seams.
The shingles, chimney, and siding have nice texture that takes paint, washes, and highlighting well. The porch and picnic table have wood grain surfaces, so it was just one coat of brown and one dark brown wash to get them into shape. I like the signs and paraphenalia simply because I don't bother with a lot of that, so it was nice to get some without a special purchase.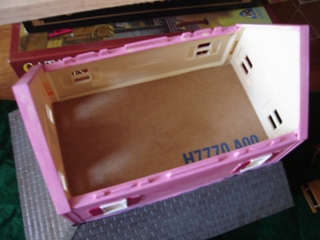 The house doesn't have interior floors, however the simple shape made simple work of adding a cardboard floor.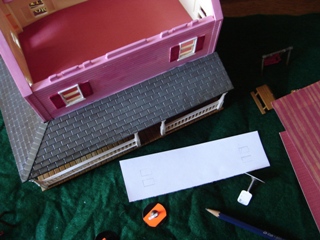 And then using some scrapbooking paper to fill in a carpet and some wallpaper.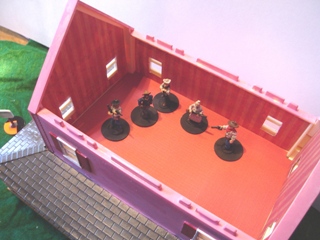 I didn't bother with a stairwell. This piece is too small for interior fights, so all I expect to do with it is to have first and second floor snipers with the occasional ninja gaining entry from the roof.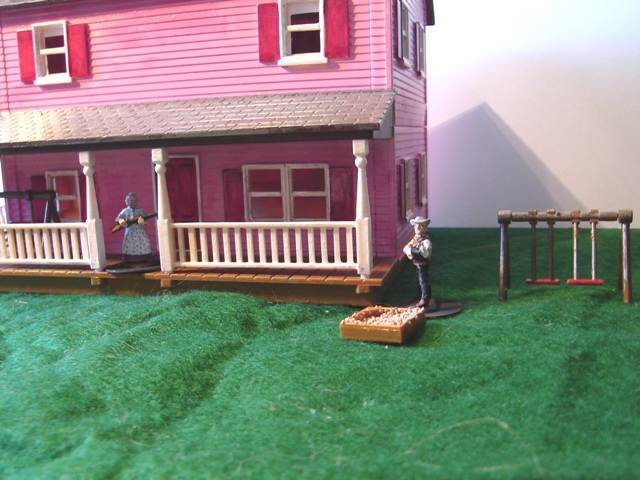 Here are a couple of closeups of granny, her boys, and the Federal Marshall waiting for something. Probably the Prarie Homeowners' Association coming to discuss the color of the house. I would carry a shotgun in those circumstances, as well.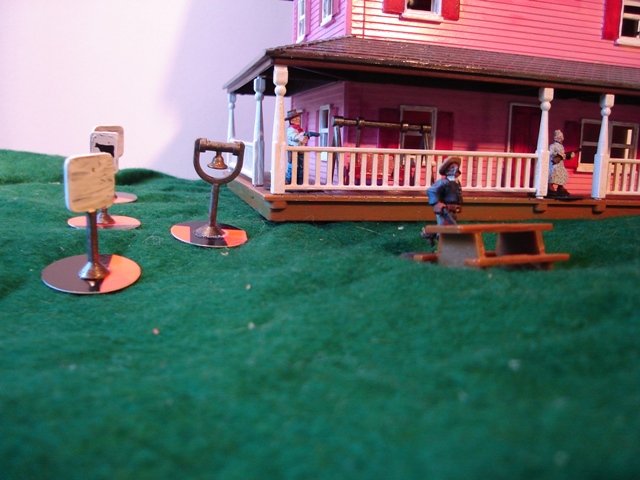 You can see the details and how the pieces interact in these shots, as well as they show off some of my new Knuckleduster minis! Yay! It is nice, however, to be able to get a based mini in and around on an enclosed porch.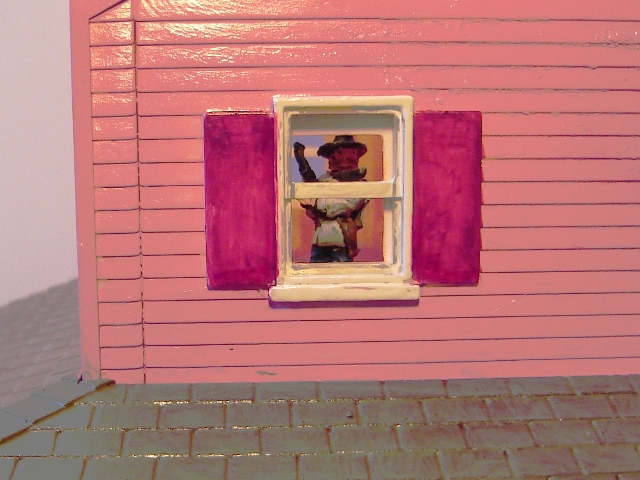 Questions about the color scheme for this project will be referred to the gentleman on the second floor.