Irrational Number Line Games, LLC
Rhinomen and Rhinothing Herd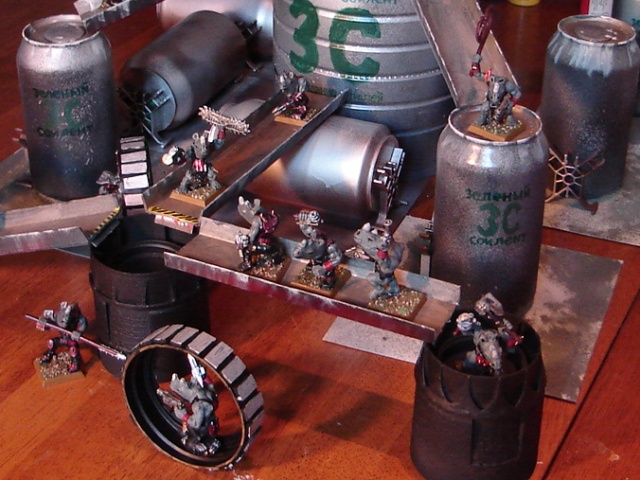 What could be sweeter than yet another recapitation? Like the Giraffe Men, these heads come from regular old "dollar store" toy rhinos. A hint for painting is after you glue the heads on (I use Loc Tite Household adhesive for that part), clean them with some isopropal alcohol, then prime them with Rustoleum spraypaint (or primer). The primer will hold through light to moderate handling, which should be enough to get your figure painted up. Once you are done, just seal it up and you shouldn't have a problem. I pick these guys up by the head frequently and haven't needed any touchups.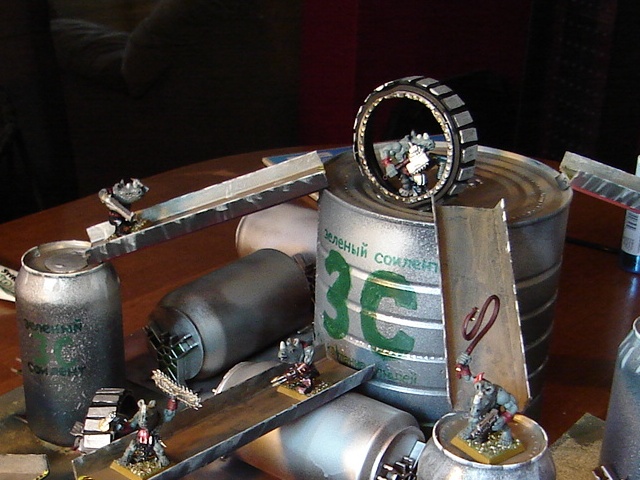 The bodies are GW savage orques and rider orques with 40K orque arms/weapons (Please forgive the spelling; I don't play any of the GW WH games) that I got from Hoard O' Bits. Again, all told less than USD 1.00 per figure for the parts.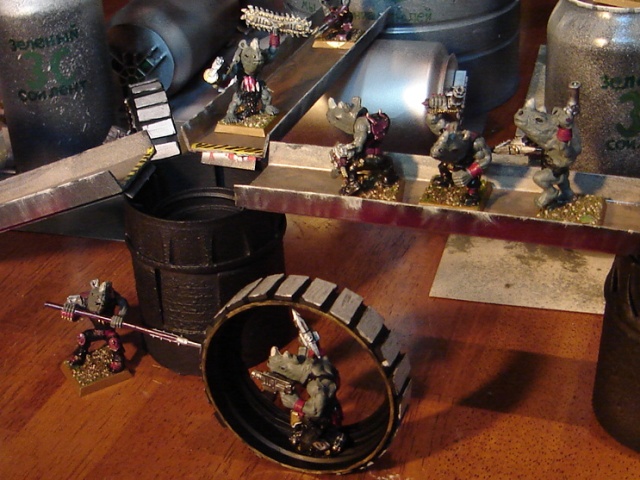 Now, for the RhinoWheels ... They are pretty simple. I started with a Paremesan cheese container lid and popped the flap off and the shaker holes out. That made a nice basic form. The seat for the riders is an old Mechwarrior Clix foot. The treads are just pieces of self-adhesive foam sheet, cut into little rectangles. Like the paint on the rhino heads, the adhesive holds them in place fine after you have sealed the whole piece. One trick for the treads is I skipped the two treads on the bottom. Did you notice? Probably not. By doing that the last treads on the wheel and the bottom of the wheel form a decently flat surface to balance the mini. I haven't had them fall over from table bumps, so I'm not worried about it. :)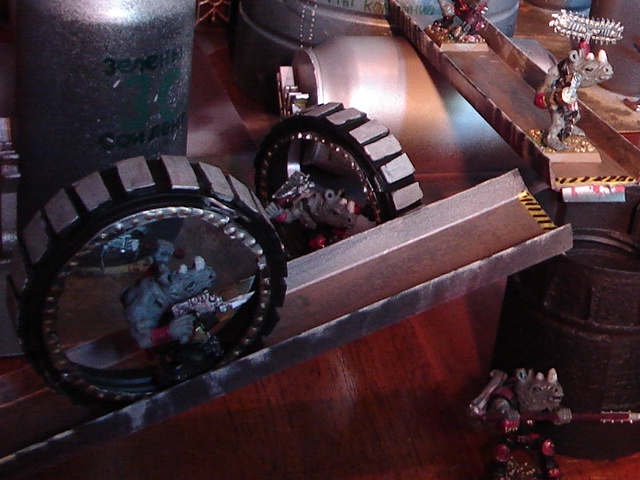 So ... what do you do with the rhino bodies? Well, i am too cheap to throw them out, so back to HoB for something GW calls a "carnifex". Or at least their heads.