Irrational Number Line Games, LLC
Sci Fi Landing Pad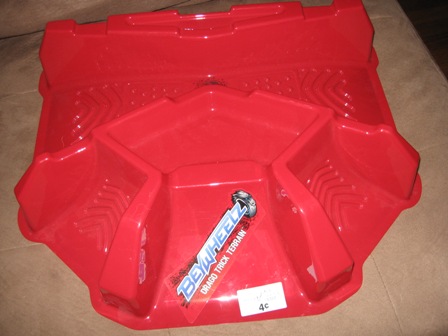 This is a Bey Blade arena. I kind of know what it is because I have seen snippits of the cartoon on TV. It's some kind of spinny top battle game. And this looks like a decent kind of thing to fight them in.
To SWMBO, it looked like something I would use to make something else. At $.04 it was a bargain. At "just grab some stuff from the bargain bin because you bought a bunch of stuff from us" it was a better bargain.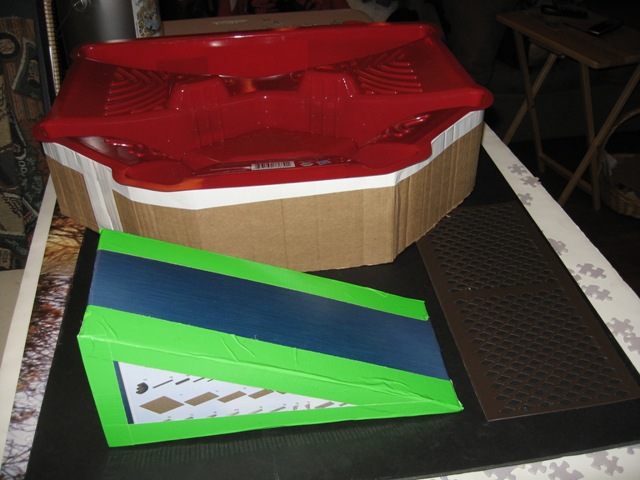 After a little staring and thinking, I realized it would work better for me upside down as a maintenance well deck. I flipped it and wrapped the outside with cardboard.
Since it is up high, I made a little ramp and cut a left-over piece of gutter guard to intustrial the ramp up a bit.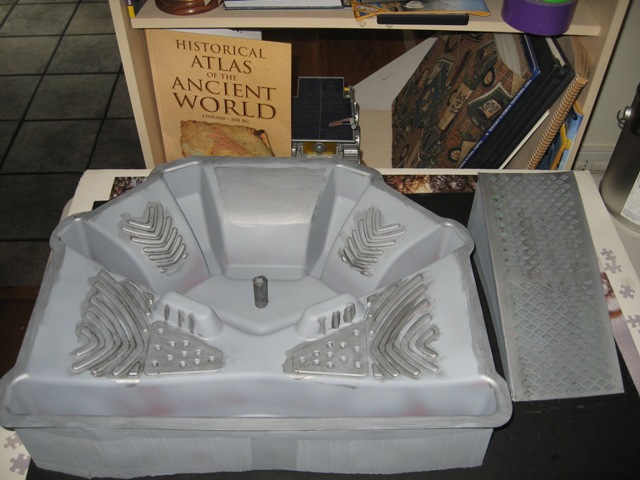 Since I am going to go with concrete and steel, a good grey primer was a good start. I will be using my paint/sand/wood glue mix for the concrete texture, so I went ahead and painted the metal parts with metallic paint first.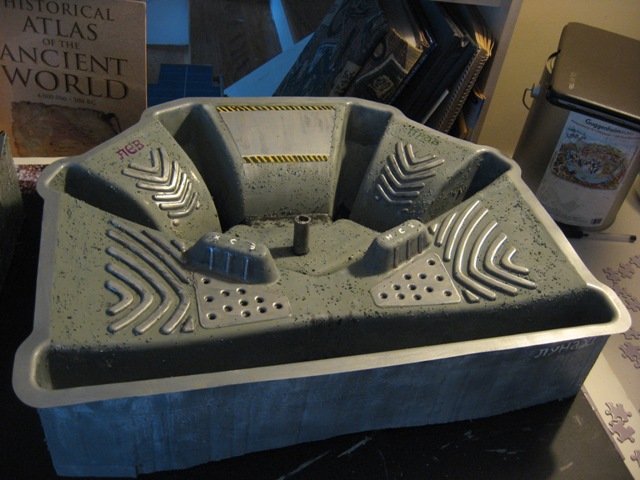 Here's what we get with the concrete and a bit of detailing.

As well as some light grey drybrushing to bring out the texture, I did some lighter grey "scraping" with a heavy dry brush. The important thing for this is to pick a direction, and stick with it. My direction was vertically down.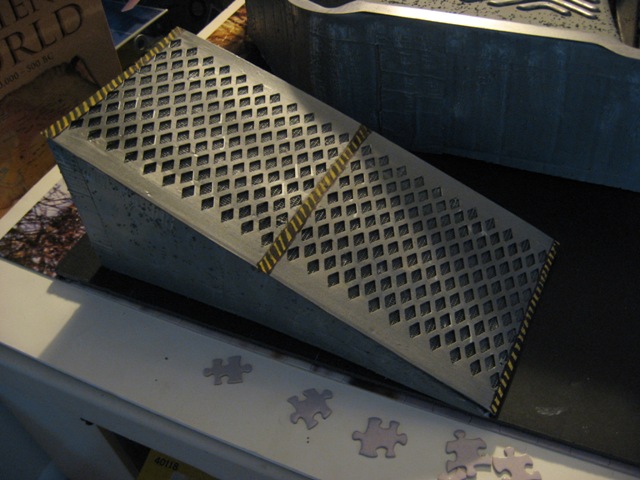 Likewise for the ramp.

Since the top of the ramp is a metal texture, I scraped down it it a mix of metallic silver and brown paint to give a rust/smudge/patina kind of industrial filth.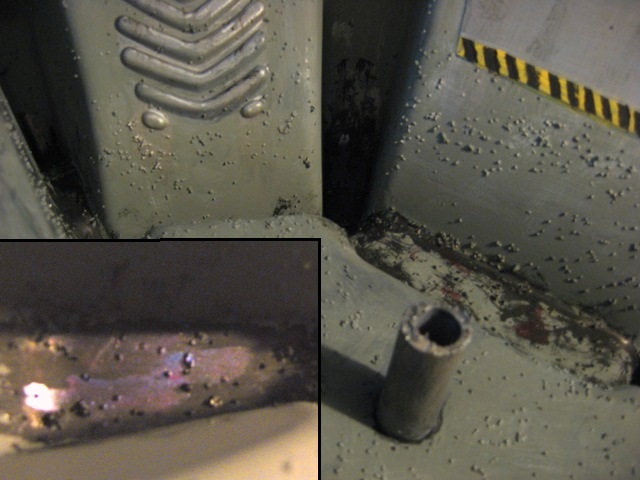 Speaking of industrial filth, I filled the bottoms of the wells with black paint, then went in and smudged them up with light shots of metallic blue, gold, and red (as well as mixed secondary colors from those) to make a prismatic oily sheen.
This pic also highlights a mounting tube like the one I used on the bases for my flying saucers and giant flying saucers.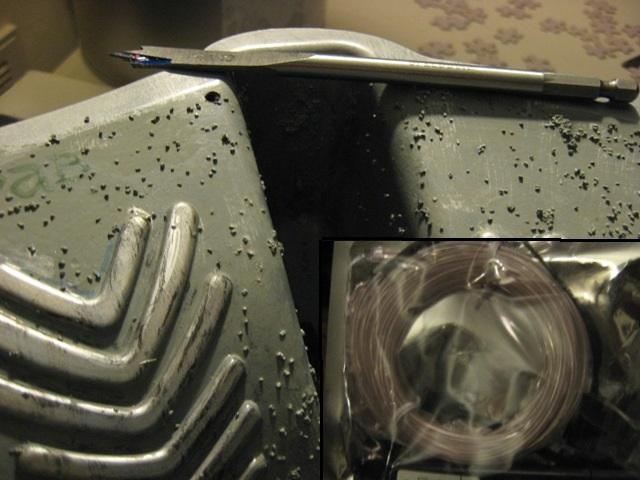 The next bit of detailing is taking some el (electro luminescent) wire and adding some piping. I used the above auger bit by hand to put the holes in the base, then threaded it through, gluing it to the base at "critical points".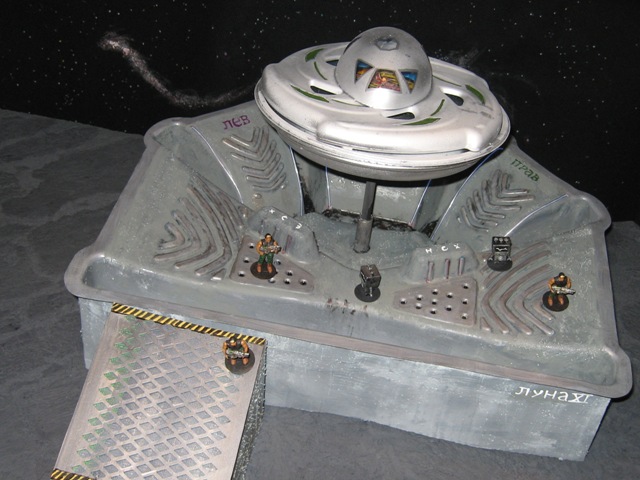 Putting it together, this is what we ended up with.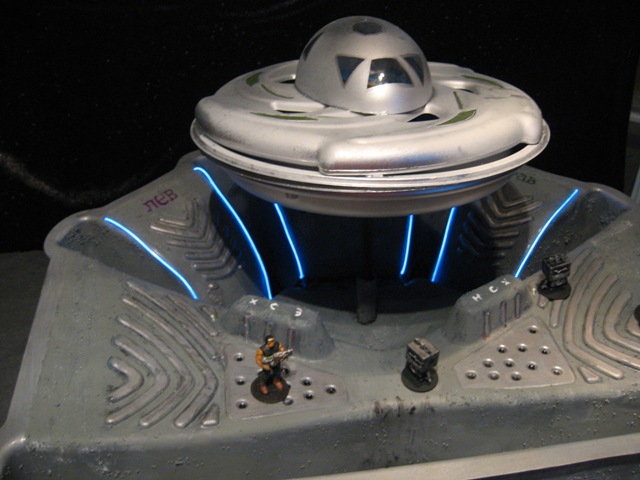 And since the el wire (at $6) costs more than the sum total of all the other parts of this, we need a good pic of it lit up.

Without an animated GIF, trust me that the controller does off, on, slow pulse, and anime seizure flash rate.
Archive
To the Archive of Ideas...